11 Sep

Refurbishments around the school

Over the Summer, we have been hard at work at renovating the school site to bring a new lease of life and make use of the space we have to inspire our students to feel valued and work hard whilst here at school.

We've renovated the Canteen which is now fitted with new double glazed windows, improving the efficiency of the schools energy use. We have knocked through the wall of the foyer to have more usable space for the canteen. To decorate the space, we repainted and we also have large mural wraps on the walls of inspiring role models with quotes to encourage students daily that they can achieve great things.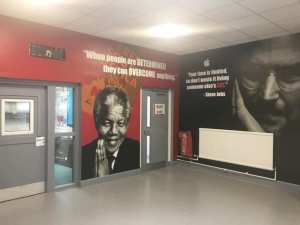 The History department is now based in the newest building of the school, the Jubilee block. This innovative and modern learning space is a great home for the History department. To drive more inspiration and motivation within our students, we redecorated where History has moved to with powerful quotes from historical icons.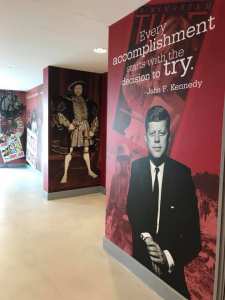 We are still hard at work refurbishing the Main Hall to modernise the space and bring it more in line with the rest of our school site.
As a school, we believe that students surrounded by encouragement and support will perform at much higher levels and that being in a cared for environment also improves their attitude to learning. Therefore, investing into that was a logical step for St Cuthbert Mayne School.