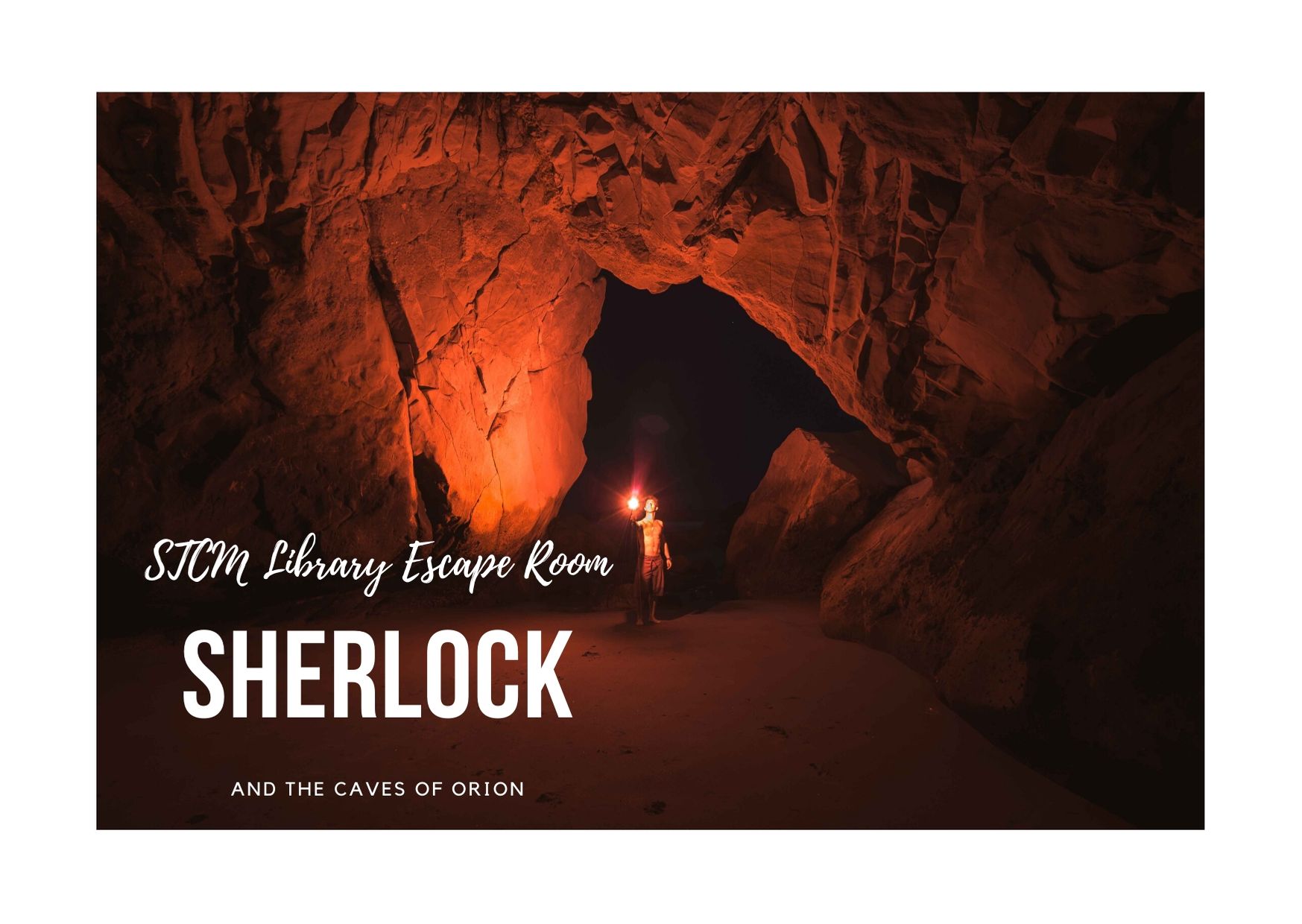 30 Apr

STCM Library Digital Escape Room: Sherlock and the Caves of Orion

This blog post contains all the information you need to solve our digital escape room.  We have made this activity for you to try at home during the lockdown. If you would like to join in you can find the link in our Google classrooms or email us at [email protected]

Once you have solved our escape room you will be given a code to email to us to prove that you were victorious!  If you get stuck you can ask a parent, carer or sibling to help, or send us a message.
Sherlock and the Caves of Orion
Escape room characters:
Adelphe Angelos
Adelphe is a teacher at the local primary school.  Coming from Greek Heritage Adelphe has always been keen to teach children languages.  She runs a Greek Club for the school children on Thursday Lunchtime.  It is quite tricky to learn Greek as the alphabet symbols are different from the English Alphabet.
She owns the land that the caves are on.  She was approached by a man a few weeks ago offering large sums of money to have exclusive use of the caves for a family birthday party in May.  He said that it would be necessary to close the caves for a few days while he prepared them.  Adelphe did not think that the team of people who turned up to prepare the caves looked much like party planners; they wore clothing more suited to the secret services, but Adelphe just assumed that the party would be more an adventure type than a balloons and cake affair.  The rich man signed the rental contract as Tim Roary.  Though she's not sure that this is his real name… no evidence, just a feeling!
Barry Brooks
Barry is the local vintage car collector.  He offers his services out as a chauffeur from time to time.  He recently picked up a Mr Tim Roary with a group of tough looking men and took them to Orion Caves.  They said that they were setting up for an important event. Mr Roary was very interested in Barry's car knowledge.  So Barry took the men on a little detour to show them some of his collection.  Mr Roary was particularly taken with the Zodiac.   Barry also prides himself on his pink book collection, here is a picture of his bookshelf…
Colin Crabtree 
Colin is the local astronomer.  He likes to climb Orion Hill (on top of the Caves of Orion) on clear nights to view the stars.   He has a particular fascination with the star constellations that form alphabet letters.  Colin likes things to be organised and likes to line everything in his house in alphabetical order.  Books, DVDs, Cooking ingredients and pictures of star constellations.
Colin was star gazing on the night that Sherlock disappeared and was the last person to see him before he became locked in the caves.
Daisy Dennis  
Daisy lives in the small cottage about half a mile from the caves.  In the summer she runs a garden cream tea cafe for visitors to the caves.   Her current menu for the summer has just been printed, though Daisy is unsure when she'll be able to open again because of the coronavirus, so she is currently using her time to play on Animal Crossing.   Her favourite characters are Tutu, Curt, Audie, Wolfgang, Roald and Anchovy.