A welcome from Mr James Down, Headteacher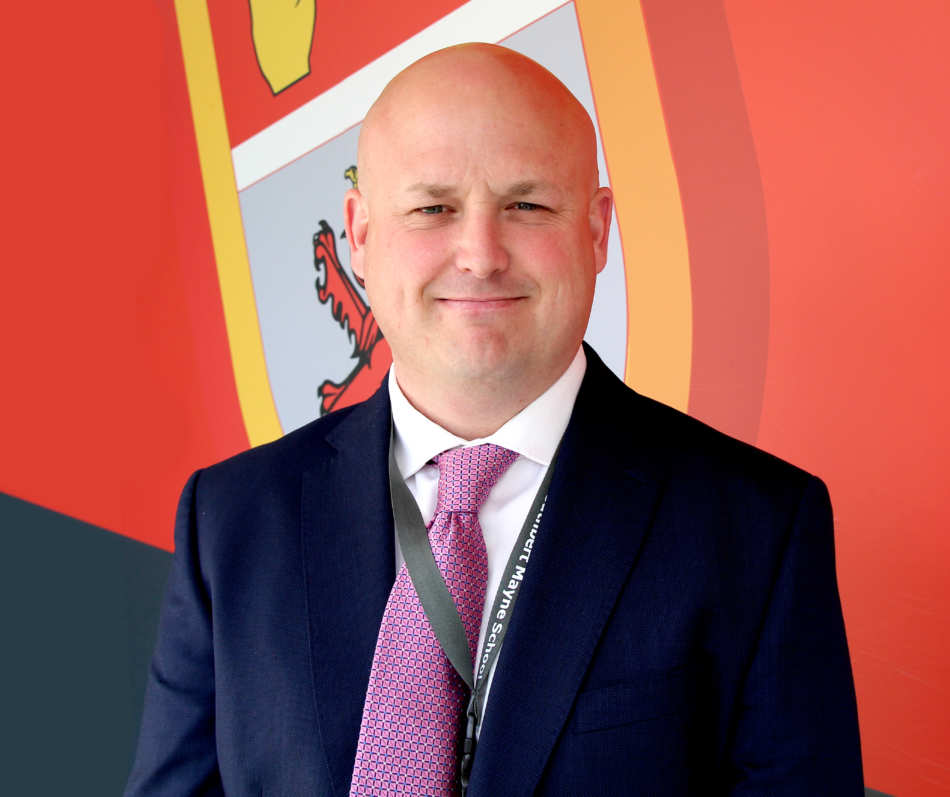 I would like to welcome you to St Cuthbert Mayne School. 
St Cuthbert Mayne School is a Christian school serving Torbay and South Devon. I know that there is a perception in the local community that only children from Roman Catholic or Church of England families can attend our school but this is not the case! All children are welcome at St Cuthbert Mayne regardless of whether they have a faith background or not.  
'Christ is our Cornerstone'
This first part of our school motto, 'Christ is our Cornerstone', really defines the way we work and develop each individual child. Our first priority is that our students enjoy coming to school, feel safe and valued and develop a love of learning. We work hard to develop in all our students the core values of the school. We want our students to have integrity and to be courageous, compassionate and creative. 
Our first attention is always towards positive behaviour. We expect students to be in school every day, to work hard and to be kind. We have a culture of high aspiration for all our students and we believe that anything is possible and that there are no limits to what our students can achieve. 
We know that the teenage years can be challenging. St Cuthbert Mayne School is very much like a family and, as with all families, we know there will be difficult times. We have an amazing pastoral team that works hard to support all our students when they need us most. 
We recognise that transferring to secondary school is a big event in your child's life so we want to support them as best we can. As part of our transition programme we go out and meet all of our new Year 7 students in their primary schools before they join us. This helps us to start building relationships with students and gives us the opportunity to answer any questions that the children might have.  In the summer term we host a transition day for students here at school so that students get an experience of what life is like at St Cuthbert Mayne.  We also host a parent induction evening so that parents can meet school staff and have their questions answered. For students who might struggle with the transition to secondary school we host a series of enhanced transition events to help these children to settle into life at St Cuthbert Mayne. 
'Learning is our Focus'
The second part of our motto,  'Learning is our Focus',  is at the heart of what we are about as a school. Students are here to learn!
We have high expectations of all our students and we want the very best for all of them. We work hard to ensure that all our students can achieve their full potential academically. The outcomes our students achieve are improving rapidly and this is important because it enables them to take the next step into further education, employment or training. 
We offer a broad and ambitious curriculum for all students. Our three year Key Stage 3 is a cultural capital of learning and is designed to develop knowledge, skills and understanding across a wide range of subjects. Our students begin to think about their GCSE or vocational courses in Year 9 and start to study these courses formally from Year 10. 
We know that some children find learning difficult and need extra help. We have a fantastic learning support department who are specifically trained to support a wide range of individual needs. We offer 1:1 mentoring, small group and in-class intervention as part of our provision. 
All students at St Cuthbert Mayne School get Home Learning every night. This is an important part of our strategy to develop independent learners.  
Outside of the taught curriculum we offer a wide range of extra-curricular clubs and activities. Each year we also offer a range of residential experiences as part of our enrichment week. Students also have the opportunity to participate in Ten Tors and we have a growing number of students taking part in the Duke of Edinburgh programme. 
One of the ways in which we stretch and challenge our most able students is through our bespoke Subject Academies. We work in partnership with local universities, businesses and other organisations to provide high quality enrichment opportunities for our most able students.
We are a 'Google School' and all students in Years 10-13 are issued with a ChromeBook laptop computer to support their learning. Our teachers use a blended learning approach as part of their practice. We use online platforms such as Google Classroom to support learning in all year groups. An important part of our digital learning strategy is to teach students how to use technology safely. We work hard in partnership with our parents to achieve this. 
Our sixth form is one of the top performing sixth forms in the south west. We offer a growing range of academic and vocational courses and do hope that students who join us in Year 7 will remain with us for sixth form. 
This year we have to operate our Open Events very differently and in line with Government guidance. I do hope that this introduction has given you a flavour of what we are about at St Cuthbert Mayne School.  Please explore the rest of our website. Should you have any further questions then please contact our Admissions Officer – Mrs Helen Sivyer:  [email protected]